One Trade Show Marketing Must Have: An Editorial Calendar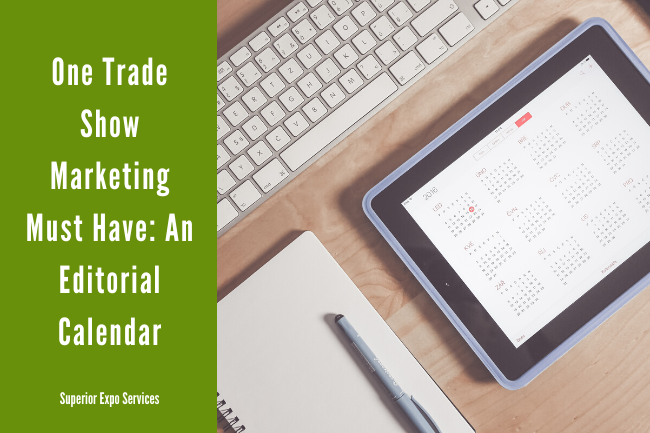 If you're in marketing and your company participates in trade shows, then we don't have to tell you how crazy wild of a ride it is to create, organize and execute your marketing strategy for the show. Be it email, social media, blogging, events, it's a beast and sometimes it feels like there's no way to tame it. If you don't already have one, a trade show marketing must have is an editorial calendar. 
What is an editorial calendar?
An editorial calendar is a place to store and keep track of your content; the type, the author, who you're writing it for, who's actually writing it, and when it's scheduled to publish or go out to your audience. It can include emails, blogs, social media, press releases, and anything related to your company and your marketing strategy. 
Looking for ways to ensure your contacts, leads and customers know what you're up to at your next trade show? Check out our Ultimate Guide to Trade Show Email Marketing Before the Show! 
How do you know which one to use? 
There truly is no one size fits all template unfortunately; trust me, we've all tried to find it. Usually there's a template that is "just about right" or has most of the features you're looking for. Then, with some reflection and time, you can add or edit features to serve you and your team better. 
Here are a few things to ask yourself in consideration of your editorial calendar:
How often are you publishing content? Daily, weekly, monthly? 

Does your team create more than one kind of content i.e. blogs, emails, videos, social posts, etc?

How many people will need to use your calendar to stay organized?

Does your content go through various approval stages?

Are you a spreadsheet kind of person or do more visually appealing options work better for you? (hey sticky note lover, we see you)
Check out these editorial calendar ideas
If you're into spreadsheets, check out this free template from HubSpot. If you're a sticky note lover or just plain don't like spreadsheets, check out this magic from Trello. And we here at SES use Ontraport for some of our marketing efforts, and we think this blog is pretty insightful in terms of their own content marketing journey. In it they share some other great articles and other template resources too. 
Well, we hope this helps you to see the importance of having an editorial calendar for your trade show marketing efforts. And that it gives you a few specific places to go for template ideas and resources, because we know the internet is FULL of options that are totally overwhelming. We also want you to know that if you need help taming the beast that is trade show marketing in general, we can help you with expo booth design, setup, trade show display ideas and more. 
Superior Expo Services is a leading family owned trade show general services contractor with over 25 successful years in the business. We know what it takes to ensure that both trade show organizers and exhibitors are supported and set up for success. We pride ourselves on providing superior performance that rivals the big guys, yet never compromises our grassroots customer-centric approach to project management, personal service and attention to every detail. Contact us today to learn more