Planning your trade show marketing must start with buyer persona research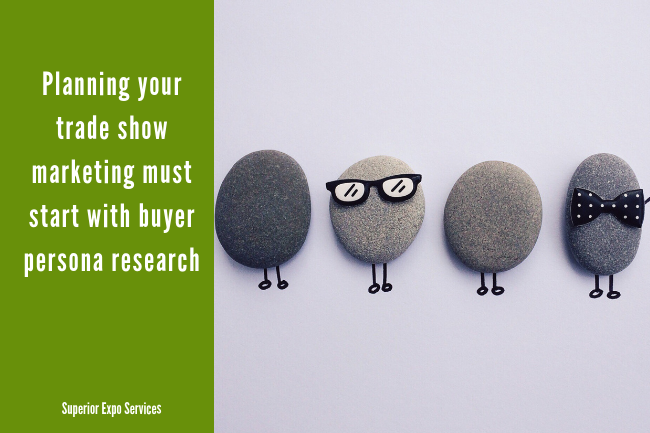 If your company is exhibiting at a trade show, have you done the proper buyer persona research to ensure you're creating marketing materials that speak to your audience? You might be saying to yourself, well of course we have. Or maybe you're thinking that your research and understanding of your audience could be dialed in a little more.
The truth is, buyer persona research is an ongoing process. Your organization can always be learning about your buyers, better understanding them, and even potentially adding new personas to your list. Buyer personas can also be called "marketing personas" or "ideal customer avatars" amidst others. They are a fictional depiction of your buyer with lots and lots of details about what makes them tick, what their problems are, where they hang out online, and more. Many times they'll have a name like, "Marketing Mary" or "IT Manager Molly."
Having a clear understanding of your buyer personas is not only necessary for effective marketing and content creation, but also for sales, services, and anything related to acquiring new customers and keeping them.
With that, we thought we'd run through how to properly research your buyer personas so you can either freshen up the ones you have or start fresh, and most importantly to  be sure you're creating marketing content that truly speaks to your audience at your next trade show.
Let's dive a little deeper into why buyer personas are important for your company and your next trade show
You know how you want your significant other to understand you? To "get you?" Think, Tom Cruise in Jerry McGuire, "You…complete me." Buyers want to be understood and "gotten" in the similar way. They want to be able to find content and work with companies who understand their problems and pain, and can provide a solution. When you have done the work to truly understand your buyers, you can then create content, messaging, services, products and processes that hit them right in the feels and makes them want to work with or learn more about your company.
The most effective buyer personas are created from market research as well as from insights gathered from your current clients through surveys, interviews, etc. Some companies may only have a few personas, and some may have as many as 20! It all depends on your business and your product offerings.
When you have done the work to truly understand your buyers, you can then create content, messaging, services, products and processes that hit them right in the feels and makes them want to work with or learn more about your company.
What about people who aren't a good fit for your business?
There are also "negative" personas, meaning personas who simply don't fit your business. It's important to have those people identified as well so that should they come in contact with your business, you can handle them appropriately.
How can buyer personas be used for your trade show marketing?
Personas will help you personalize and customize your marketing to those who visit your booth. Trade show management should have an idea of who attends their shows, which is probably what helped you decide to exhibit at their show in the first place. If you're uncertain, we recommend that you get that information to ensure you'll be in front of the right audience for your company.
When you know who of your personas will be at the show, at minimum you'll be able to create marketing collateral and content specifically for these potential buyers. And further, when you create content that is appropriate for the different stages in the buyer's journey, you'll be well on your way to meeting your audience where they're at in terms of what their needs are and then where they may be at in terms of readiness to buy. #Winning
How to create your buyer personas
And now, the moment you've all been waiting for. We're going to highlight some of the steps you can take in order to create your buyers personas, and then point you to a free template that you can use to document your findings.
Here are some steps you can take to help identify and/or learn more about your company's personas:
Use your company's database or CRM to look at trends such as where you've sourced your existing leads and customers and what content they've interacted with

If you're using forms on your website, be sure to ask questions on there that will help to better identify and segment your personas i.e. you could ask for title or role at company, so you know if Service Manager Mark or CEO Charlie is downloading your content. (You can also have negative persona titles on there too such as "student" so you can exclude them from future campaigns)

Interview your sales teams and find out what their thoughts are on the leads or customers they're working with and if there are any conclusions or generalizations they can make about them

Interview customers (including good and "bad" ones) and prospects either in person or over the phone, to discover what they like about your product or service. This is an important one, so we have a few more pointers for you on how to find interviewees.
How do you find people willing to be interviewed?
We'll be honest, this can take a little time and patience. Here are a few tips to get some yes's.
Give them an incentive. You might not need to do this with your best or most loyal customers, but incentives like gift cards are an easy option to help get people to set up a time to talk.

Do not sell on this call. And be sure that they know you're not selling anything and doing research, and their opinions and thoughts matter. Most people are willing to do this and feel valued when asked.

Make it easy for them. They need to be able to simply book a time with you so make that happen. Have some blocks of time, or even use an online appointment scheduler that they can easily book a time that works for them on your calendar.
Soooo, what do you ask these awesome people who've said yes to you?
Here are 20 questions (care of our friends at HubSpot) that you can start with, and then you can always ask more questions that you know will help identify your personas such as region, company size, etc.
Role:
What is your job role? Or Title?

How is your job measured? I.e. revenue, profit, leads, etc.

What does a typical day look like for you?

What skills are required to do your job?

What knowledge and tools do you use in your job?

Who do you report to? Who reports to you?
Company:
In which industry or industries does your company work?

What is the size of your company (revenue, employees)
Goals:

What are you responsible for?

What does it mean to be successful in your role?



Challenges:

What are your biggest challenges?



Where they hang out online:

How do you learn about new information for your job?

What publications or blogs do you read?

What associations and social networks do you participate on?



Personal Background

Describe your personal demographics (if appropriate, ask their age, whether they're married, if they have children).

Describe your educational background. What level of education did you complete, which schools did you attend, and what did you study?

Describe your career path. How did you end up where you are today?



Shopping Preferences:
How do you prefer to interact with vendors (e.g. email, phone, in person)?

Do you use the internet to research vendors or products? If yes, how do you search for information?

Describe a recent purchase. Why did you consider a purchase, what was the evaluation process, and how did you decide to purchase that product or service?
From here, you're looking for similarities, things your interviewees have in common, consistencies in what they are sharing. When that starts to happen, you're starting to build out and have a clear understanding of your ideal customer and your buyer personas are coming to life!
Capture all of these commonalities and details of your buyer persona in this handy template you can download from HubSpot, and you'll be on your way to creating magic in your marketing content for trade shows and beyond. 
Superior Expo Services is a leading family owned trade show general services contractor with over 25 successful years in the business. We know what it takes to ensure that you, your show, and your exhibitors are supported and set up for success. We pride ourselves on providing superior performance that rivals the big guys, yet never compromises our grassroots customer-centric approach to project management, personal service and attention to every detail. Contact us today to learn more.