5 Quick and Easy Email Marketing Segmentation Tactics You Can Use Today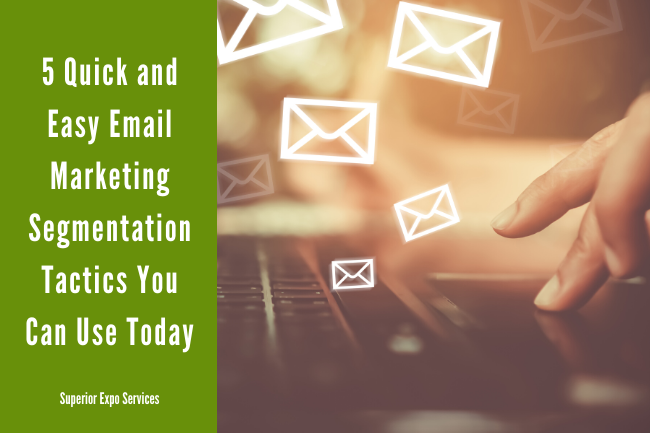 Email marketing segmentation can create higher open and click through rates. What that means to your audience is that you're serving up more specific and valuable content to them. Hopefully for your business, this means that you're seeing better engagement with your contacts and leads, and helping to move them through your funnel for better qualified leads and higher conversions. 
Mailchimp's latest user data showed that segmented campaigns get 14.37% more opens and 64.78% more clicks than non-segmented campaigns.
But segmenting your email lists can be a bit overwhelming to say the least, so we've got 5 quick and easy email marketing segmentations tactics you can use today. 
1. Demographics 
When you're creating forms for any of the content you have, be sure to add in some demographic questions such as: 
title or role in company

annual revenue

gender

buying power (i.e. are they a decision maker, influencer, or none of the above

attended previous year trade show 
Be sure not to ask "too many" questions as you could scare them away if the form seems too "nosy." Start out with the most impactful piece of demographic info that your business can use to serve up valuable content to your contacts. 
If you've heard of progressive fields on forms, these forms will skip (actually hide) the fields that you already have data on that contact for, and serve up new fields that help to gather more intel on them. 
2. Email engagement
If you've been sending emails out to your audience, hopefully you're using a tool that allows you to see email open rates, click throughs, etc. Does your tool allow you to view this per contact and segment based on the actions they take? 
If so, you could start out by segmenting contacts that haven't engaged with your emails for a certain period of time, let's say 30-90 days. For these contacts, you could create a re-engagement campaign and serve up an offer, a sales, discount, promotion, new product, etc. to help re-ignite their interest in your brand. 
Or, you could take contacts who've opened certain types of emails or specific content and then create a separate campaign for them as well to keep them engaged and moving through your sales funnel (also known as the buyer's journey). 
3. Purchases made
You could segment based products purchased, services provided, etc. If your company has customers on contracts or in certain agreements for services, you could segment based on when their agreements are ending and serve up discounts or deals on their next contract or service with you.
4. Where they are in the buyer's journey
This one is SO beneficial to keeping your audience engaged and moving them through the buyer's journey aka sales funnel. Someone who enters your list at the top of the funnel (or when they are still in what is called the awareness stage in the buyer's journey) will receive content that is more general. This is content that helps them see what kind of problem they have so that you can then help them solve it.
If someone's been on your list for a while, and they interact with more specific content, then they are showing you they're starting to move further down in the funnel and in more of the "consideration stage" of the buyer's journey. You can now add them to a workflow that has content more specific to that topic or interest, and keep them moving towards the bottom of the funnel.
Once they've been there for a while and interacting with content that shows they're ready to buy (such as comparing features, demos, reading testimonials) then your  content has done its  job. This kind of content strategy is for sure one of the most involved from a marketing perspective, but also can be one of the most effective in creating marketing and sales qualified leads with higher conversion rates. 
5. What content have they interacted with on your website 
This definitely takes adding some tools into the mix to track what visitors are doing on your website. Once you're able to see what your contacts and visitors are doing on your website, i.e. what pages they went to (or didn't) you can then set up workflows that serve up relevant content based on that intel. MailChimp has features like this as well as other apps such as HubSpot, Marketo, HotJar and BeamPulse and others. 
Whatever you're doing (or not doing) in regards to segmentation, know this: it can be overwhelming, and there are LOTS of opportunities to do it. Pick one or more that you know will help your team create the most value for your audience, do it for 30-90 days and see what kind of impact they have. You can always continue, tweak, or add in other criteria to see how your audience responds. The sky's the limit!
Download our most recent guide to email marketing before the trade show to get even more segmentation tips and email workflow content ideas.
Superior Expo Services is a leading family owned trade show general services contractor with over 25 successful years in the business. We know what it takes to ensure that both trade show organizers and exhibitors are supported and set up for success. We pride ourselves on providing superior performance that rivals the big guys, yet never compromises our grassroots customer-centric approach to project management, personal service and attention to every detail. Contact us today to learn more.