Guide: How to Ensure Your Exhibitors Get the Most Out of Their Trade Show Experience
In today's ever evolving business world, with online buying and social media a force to be reckoned with, ensuring your exhibitors get the most out of their trade show experience is more important than ever. The pressure they feel to hit their goals and get the ROI out of their show attendance is similar to the pressure you probably feel to keep them coming back, satisfied and seeing the value in their participation.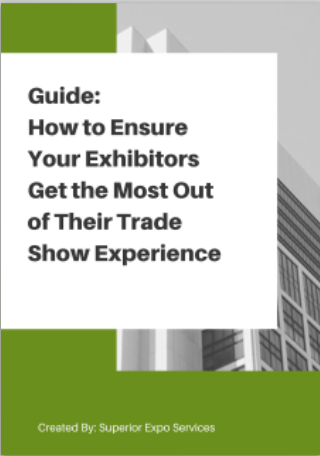 We created a guide to help you ensure that your exhibitors get the most out of their trade show experience. We've broken it down into tactics that can be done before, during and after the show for them to have the best experience possible. Our goal, is that you use this guide to help spark some new ways to communicate and engage with your exhibitors to help provide seamless support and value for them.

Some of what you'll see in this guide are things that you can directly help them with, and there are other ideas for you to build upon, add in and that will hopefully spark new content ideas and strategies for you to offer your exhibitors.

Here's a sneak peak of what you'll find in this guide:

Before the Show: Preparation for Success
Go deeper into helping your exhibitors get what they're looking for from your show by encouraging them to do their research about your show, look at their why, and set SMART goals. In addition, see how providing booth design assistance to them early on by choosing the right General Services Contractor can impact both their success, and yours. We'll also talk more about pre-show marketing and how important training up booth staff is to their success.

Sound good? Download the Guide Here.

During the Show: Making It Happen

We'll talk about how your exhibitors can work their plan, more about booth staff and whether they're ready to rock, and the importance of defining and understanding what a true lead is.

In addition, we'll talk about getting social at your event and some tips on some of the social networks that they can use to get their message (and your show) out there. We'll also talk about some great swag recommendations (and some not so great ones).

After the Show: Capitalizing on The Hard Work

Give your exhibitors a simple email sequence for follow-up in the first couple weeks and a tip for how to engage their visitors after the show. We'll talk about the importance of measuring their successes, learning from their mistakes and documenting everything in order to determine ROI and best practices.

Lastly, we offer 5 questions for you to get your brave on and engage with your exhibitors and improve your performance and their experience. It's a great way to take advantage of the opportunities available to you to incorporate new activities and ideas that you may not have thought of before.

So that's it! Ready to Get the Guide? Click here.

Superior Expo Services is a leading family owned trade show general services contractor with over 25 successful years in this business. We know what it takes to ensure that you, your show, and your exhibitors are supported and set up for success. We pride ourselves on providing superior performance that rivals the big guys, yet never compromises our grassroots customer-centric approach to project management, personal service and attention to every detail.