Exhibitors Don't Believe Show Organizers and General Contractors Have Respect For Their Time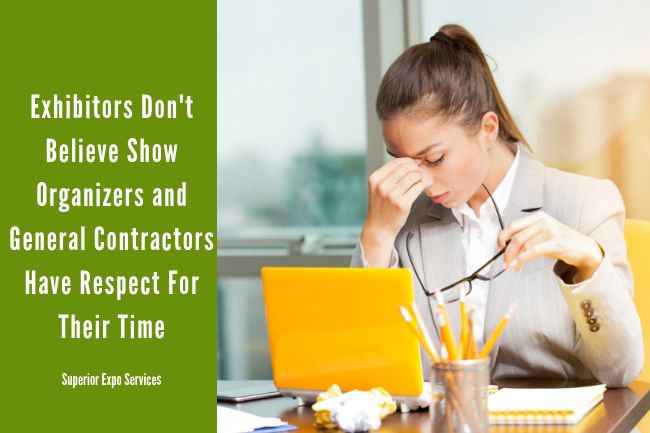 In a survey conducted by MAYA Design Inc, their research found that in general, "exhibitors do not believe show organizers and general contractors have respect for their time and that they devote no effort toward removing burdens and unnecessary details that contribute to the noise." This goes along with the four major challenges in exhibitors that were discovered through their research, being anxiety, stress around show costs, busyness (or overwhelm), and confusion when it comes to the trade shows they participate in.
As a General Contractor, We Are Listening Too
As a general contractor, we take this feedback to heart and do our best to partner with our clients to create positive interactions with exhibitors. We know that we are a critical part of their experience at the trade show, therefore, we try to provide up front and clear communication from get, and as soon as we can. 
What Can Show Organizers Do (or NOT Do) To Reduce Overwhelm in Exhibitors?
As a show organizer reading this, it might make you stop and take a look at how you're contributing to this "busyness" and/or how or what you can do to remove extra steps in processes, take out the minutiae and save time for everyone.
We know that as a show organizer, you are more than likely equally as busy as your exhibitors. However, the success of your show relies on your exhibitors satisfaction ratings and their return. Happy exhibitors, happy organizer, right? (link to ebook)
So here are a few different strategies or ideas that you could implement or consider as you work with your exhibitors moving forward.
Can you offer any free trainings/workshops/calls that help walk your exhibitors through processes and procedures?
Can you create some content i.e. FAQ documents, downloadable PDF's or even blogs on some of the best practices for success and reduced stress at your shows?
Can you work with your general contractor to encourage partnership, support and ease of what they have to offer? Many times, your GC will be the ones dealing with your exhibitors day of show and you need to make sure you have a STELLAR team you're working with – after all, they are almost an "extension" of you as the organizer, right?
Can you give your exhibitors some "highlights" of the most important aspects of the show manual and where to find what in there? That way, they can go to the super pertinent info first, and review the rest later? Could you consider organizing the manual in a way that has it organized by due date/timeline to make it easier for your exhibitors?
Could you offer them a review of some of the best project management tools out there to help them stay or get organized?

If you already have feedback from your exhibitors on what you could improve upon, have you? Can you pick one thing and make it happen before your next show?
Trade Show Life is Busy!
Where is the hashtag for that, right? Listen, we know just how busy this business is, and how busy life in general is. Implementing small but impactful changes over time can make a big difference for your exhibitors, and for you. Gratitude can go a long way in the meantime. Let your exhibitors know you're grateful for their attendance at your show and that you're doing your best to make positive and meaningful improvements.
Superior Expo Services is a leading family owned trade show general services contractor with over 25 successful years in the business. We know what it takes to ensure that you, your show, and your exhibitors are supported and set up for success. We pride ourselves on providing superior performance that rivals the big guys, yet never compromises our grassroots customer-centric approach to project management, personal service and attention to every detail. Contact us today.