Reducing Exhibitor Anxiety is a Must for Show Organizers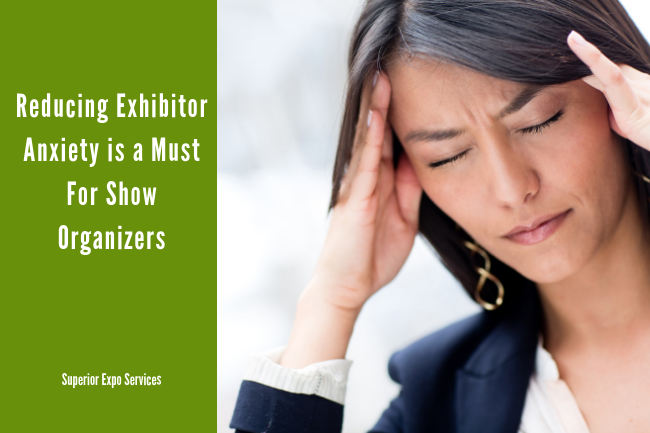 Exhibiting at a trade show is not for the faint of heart. There's designing the booth, coming up with the marketing strategy, figuring out travel, and coordinating with show organizers, contractors and suppliers. Not to mention the actual show participation and having their game faces on.
In a research study conducted by MAYA Design Company*, anxiety was one of the top reported issues exhibitors reported leading up to a show (show costs, busyness and overwhelm, and confusion were the other top challenges). It's critical to show success and longevity for show organizers to be mindful of this and doing what they can to reduce exhibitor anxiety.
#Reallife Quotes on Exhibitor Anxiety
When asked to describe their experience of working with show organizers, suppliers, vendors, etc, these were some of the things exhibitors had to say: 
"They're making my life hell!"
Another exhibitor compared his experience to the feeling "one would have about getting caught in public without pants." This is because he had no guarantees or certainty leading up to a show, and he could never be sure that he would not be in an equivalent position of risk when the show opened.
There Are No Guarantees, But There Sure is Superior Customer Service
Ok, so if you're reading that, it might hit you in the gut a little. These are the things that add up over time and cause exhibitors to get fed up, stressed out and not return to shows. We all know the worst case scenario there. So let's not let it get there!
Show organizers can ensure they are providing excellent customer service, support and communication to their exhibitors by ensuring they've got the right team supporting the show, and in turn, their exhibitors. If you're working with a general contractor, ask yourself these questions:
What does the overall communication exist of between you and your GC? Between the GC and your exhibitors?

Are you getting the exhibitor manuals approved in a timely fashion so that your GC can reach out to your exhibitors early enough before a show to develop some trust, credibility and rapport?

Is the exhibitor manual clear? Is it full of minutiae? What do you have set up for first time exhibitors to support them in wading through all of it?

Does your GC have other services and support available such as booth design, that you can offer up to your exhibitors early on as an added value and a way to build trust?
Trade Show Stress is Inevitable, But Suffering is Optional
Trade shows are always going to be stressful, there's no getting around that. But show organizers can greatly reduce their exhibitor's anxiety (as well as their own) by hiring the right general contractor to support the overall success of the show for all parties involved.
We pride ourselves on providing superior performance that rivals the big guys, yet never compromises our grassroots customer-centric approach to project management, personal service and attention to every detail. Contact us today, we'd love to be part of your show's success and in helping to reduce your exhibitor's anxiety, and yours.