Expo booth design software makes every stage of the creative process easier. From inspiration to final design approval, the latest design software is a great tool for any event space creation. After all, your meeting and trade show exhibit has to function as a promotional space within the trade show. Strategic design advances your visibility and appeals to your purchasing customer, by attracting booth traffic. According to Trade-Show-Advisor.com, incorporate the latest graphics, marketing, and modular technology help your product or service shine above the rest.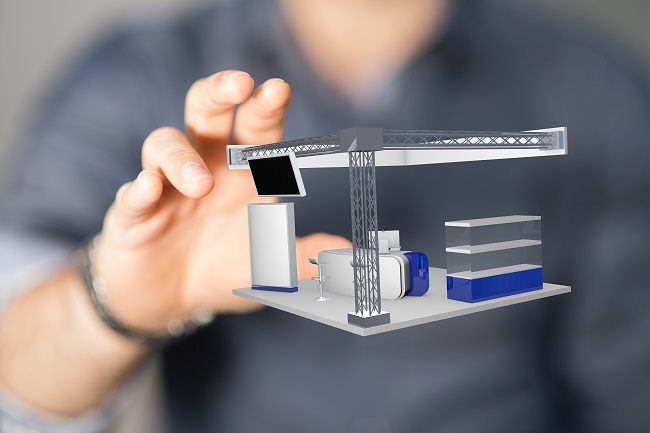 Exhibit design software can bring your booth to life by allowing you to:
Create floor plans
Customize décor
Adjust module placement
Drag and drop furnishing models
Align with marketing plan and visuals
Share layouts for design input from your team
Your unique booth design extends your office, your business offerings, and your branding message into a trade show space, your way. Improve your business' chances of garnering great attention from your target audience in the crowd of thousands of expo attendees. Networking and new business connections are worth the time and financial investment in message driven booth design and display placement that not only fill your allotted square footage but help you gain the height to reach out to attendees across the convention center floor. You have to stand out. But once an attendee observes your booth design up close, it's important for them to interact with your business.
Why limit your company's professional exposure and action-oriented impression at your next expo when you can leave them wanting more?  In fact, Superior Expo Services believes in revitalizing your customer experiences by revitalizing your booth design before the next trade show.
If you have any questions about booth design or any other expo services, contact us today. In the meantime, here are a few ideas of how Superior Expo Services can help update your next trade show.
Event planning
Exhibit set-up and staging
Customize design and décor
And so much more…