Email Marketing Benchmarks + Your Data = Magic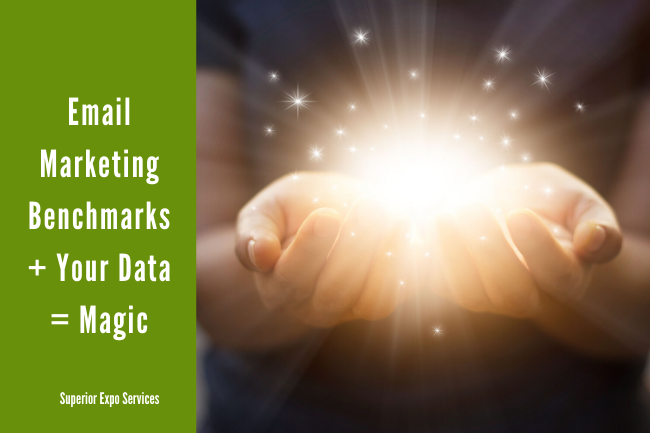 If you've got any kind of email marketing in place, chances are you've googled email marketing benchmarks, looking for what the data shows, best practices etc. And if you haven't, that's ok too! There is a lot of aggregated information out there that shows what the key metrics are and their numbers. What's most important is that you use that info, plus your own data to find your own email marketing magic. Let's talk more about that. 
What are some email marketing benchmarks?
The main benchmarks to be paying attention to are:

Open rate – this is the % of the total number of subscribers that opened an email  

Click-through rate – this is the measure of how many people clicked on a hyperlink, CTA or image within a particular email

Unsubscribe rate – this is the number of people who choose not to receive your emails anymore 

Click-to-open rate – how many subscribers receive an email, open an email and then click on a link.

Bounce Rate – the number of recipients who didn't receive an email aka got bounced back (there's a hard and a soft bounce rate) 
Here are some averages (for all industries) for each of the above metrics, according to Campaign Monitor. 
Average open rate: 17.92%

Average click-through rate: 2.69%

Average unsubscribe rate: 0.17%

Average click-to-open rate: 14.10%

Average bounce rate: 1.06%
Compare your company's data against the averages
You may want to take a look at your data and see how your company's email marketing metrics are stacking up against the all industry averages. You'll get a sense for where there may be some areas for opportunity. In the report linked to above, there's also data specific to industry which may also help you drill down further. 
There is additional information out there about the best days to send an email and even what time. And there's a bit of controversy around some of that data. If everyone gets wind that Tuesdays are the best day to send an email, then….yep, you guessed it! There's a lot of email sends happening on a Tuesday competing for visibility. 
What does your company email marketing data say?
That's why it's SO important to find the partnership between your data and the benchmarks. Keeping these benchmarks in mind is important, but if you find that emails you send on a Sunday afternoon get a better open rate for your audience than the ones you send out on Tuesdays, then rock on with your bad selves and keep them going out on Sundays.
Want to nail your pre-trade show email marketing?
Your audience's behavior around email marketing can be a great guide in terms of what content is really resonating, and what isn't. It's important to review over time, especially when it comes to a campaign. Try and keep your review period to a minimum of 30 days and then review again at 60 and 90 to ensure you're not missing anything key in your data. 
The benchmarks are a great place to start and to see growth in your efficacy, however, they are nothing without your own data. Remember, email marketing benchmarks + your data = Magic.
Superior Expo Services is a leading family owned trade show general services contractor with over 25 successful years in the business. We know what it takes to ensure that both trade show organizers and exhibitors are supported and set up for success. We pride ourselves on providing superior performance that rivals the big guys, yet never compromises our grassroots customer-centric approach to project management, personal service and attention to every detail. Contact us today to learn more.