5 things To Do With The Business Cards You Collect At A Trade Show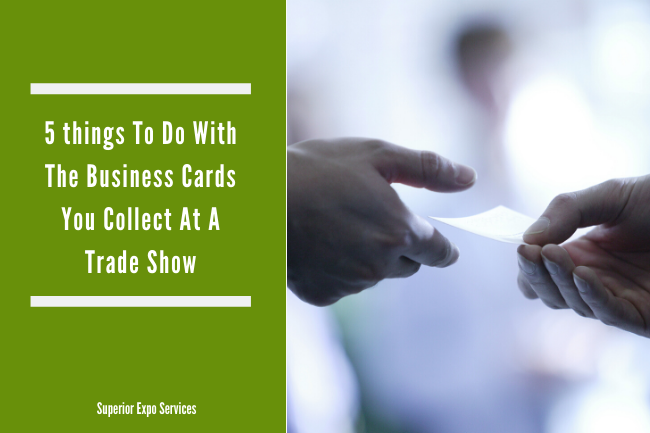 You go to a trade show. You meet tons of people in and out of the booth. Business cards are exchanged. Follow ups and meetings are discussed. You leave with a stack of them, get back into the office after the show, and then what? We all know that sometimes they sit just a little too long, what with all the catching up you have to do after the show. But you're spending money on being there, and those cards may be key to trade show ROI. So, we're here to suggest these 5 things to do with the business cards you collect at a show. 
1. Be super clear about who's business cards you want to collect.
Your goals for each trade show you attend should be defined before you go. Whether it's identifying qualified leads, potential partners, vendors or referral sources, you should only ask for a business card from someone you're seriously interested in connecting with further. As the folks over at The Trade Group said, "Asking for business cards from people you are not interested in connecting with is the equivalent of requesting junk mail in your mailbox."
2. Take notes from the trade show on them.
Be sure to write any pertinent notes on the back of the card if you had a meaningful conversation with someone at the show. You may think that you'll remember, but after the hustle and bustle is over, you may not.

3. Connect on social media after the show.
Where you connect will depend on your business and where your ideal clients are hanging out. LinkedIn is usually a great place to start from a person to person perspective. You can also invite people you've connected with to follow your company page for more visibility to your brand and what you offer. Other channels may be better options depending on the nature of your business. 
An even better way to engage with people on social media, is inside a group that your company has created and facilitates. It can be a great space for your company to provide valuable content and support to your ideal clients and help to move them through your funnel. 
4. Be sure to email everyone that you connect with personally
.
Your company may automatically add contacts from lead capture devices/technology to a workflow or email campaign, but reaching out person to person is always a good idea. Use the notes you wrote on the business cards to craft a personal note and engagement after the show. Also, be sure to find out what kind of email workflow sequence your leads may go into so that you're not duplicating content. This is where "smarketing" comes into play.
5. Follow up within 2 weeks of the show and have some kind of next step in place.

Whether this is a phone call, a meeting, a future followup and/or some other specific action, the faster you do this, and the more specific the action is, the better the results may be.

Recently at Expo Expo, The Indoor Lab offered a new technology called Click2Connect, (you can learn more about it here, and see our booth in the background!). It's a kind of tracking beacon that works with an app to retrieve the pertinent info from someone you connect with at a show. There's an app that stores any info you collect and allows you to export this data into Excel to use later for follow-up purposes. Our experience with it was that it was a little glitchy. We're not sure if it was a connectivity issue, but we look forward to the technology continuing to evolve and expand. 
What are some of your tricks and tips for ensuring that you make the most out of the business cards you collect at a show?