3 More Things Trade Show Organizers Can Help Exhibitors Do During a Show to Keep Them Coming Back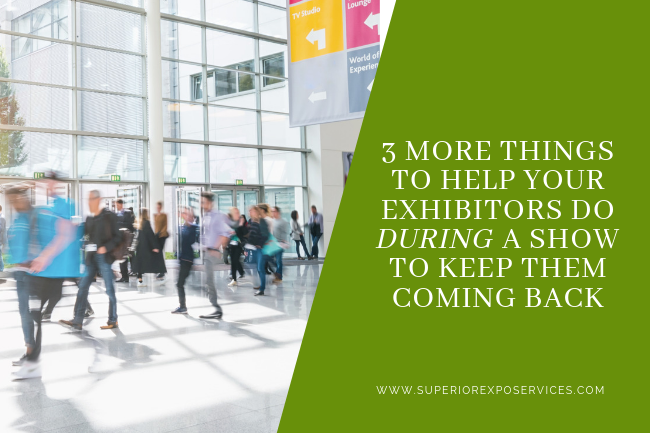 In one of our last blogs, we talked about 3 things trade show organizers can help exhibitors do before their show to have an awesome experience (and keep them coming back). If you missed it, check it out here. And there's more; what can you help your exhibitors do during the show to keep them coming back year after year? 
Here's a few of our favorite things you can do during the show to continue to drive value and help them see a return on their investments of time, money and energy.
Ensure Exhibitors are Satisfied With Their Booth
Now, technically you could say this is something to help them with before the show but what we're really talking about here is ensuring that they are 100% satisfied with their booth design and/or setup.
If you're working with a General Services Contractor (GSC), they should have a rockin' exhibitor services team that can ensure your exhibitors have what they need to make their booth shine and/or be functional for the show. Some GSC's will have design capabilities too that your exhibitors can use to help create a design that wows, and with that, will come an extra layer of satisfaction and support.
Who you choose to work with for your show can be a huge differentiator in terms of the experience of your exhibitors, and yours.
Rock that Social Media Presence at Your Trade Show 
Ah yes, social media. I think for many businesses, it's almost a love hate relationship with social. You know it's how people make decisions today, how they buy, where they look for info, etc. and, it takes something to manage it.
But during the show, it's actually pretty fun! If you've created a hashtag for the show, your exhibitors should be posting and tweeting the heck out of it! Running contests for pictures, activities etc and having them posted will help your show and your exhibitors draw attendees in to their booths. It's also a great way for them to remind their attendees of scheduled events, promotions, contests, etc.
Check out our guide, How to Ensure Your Exhibitors Get the Most Out of Their Trade Show Experience to learn specific ways your exhibitors can use top social media channels to boost their visibility, and yours!
Help Them Hand Out Amazing Swag
The amount and the variety of swag that your exhibitors hand out at shows is off the charts. Pens, flashlights, notebooks, backpacks, cookies….what else?
Now let's face it, some 'swag' does rank higher on the favorites list than others. And some, according to HubSpot, are just plain awful to get. Here's a few of the best and worst according to them:
Best:
Mobile Device Chargers (yes, brilliant)

Seasonal Items – Flip Flops, Shades, Bug Spray (anything that relates to where the show is)

Umbrellas – (again, brilliant)
Worst:
Keychains

Pens

USB Flash Drives
Now, these are all subject to opinion, but it's worth noting. Helping your exhibitors with where they can source quality swag as well as working with a GSC to handle shipping, disbursement, etc.goes a long way in the "rockin' it and providing value" category.
We hope this has given you some more ways and ideas on how to provide superior service to your exhibitors and keep them coming back year after year. You can get more before, during and after ideas by downloading our free guide: How to Ensure Your Exhibitors Get the Most Out of Their Trade Show Experience.
Superior Expo Services is a leading family owned trade show general services contractor with over 25 successful years in the business. We know what it takes to ensure that you, your show, and your exhibitors are supported and set up for success. We pride ourselves on providing superior performance that rivals the big guys, yet never compromises our grassroots customer-centric approach to project management, personal service and attention to every detail.