Email Marketing using MailChimp, HubSpot and Ontraport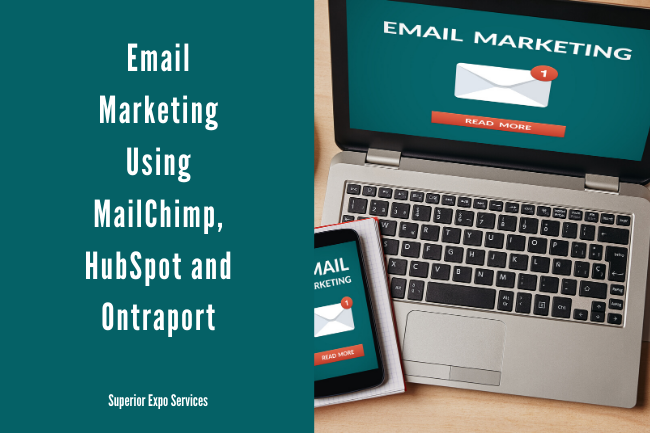 Over the last few weeks we've been talking a lot about email marketing. We've talked about the do's and dont's, why editorial calendars are so important, some tips on segmentation and how important it is to ensure you've got a rockin' email marketing campaign going before your next trade show. One thing we haven't focused much on are the actual email marketing tools that you can use to implement these strategies. So with that, we're going to give you our thoughts on email marketing using MailChimp, HubSpot and Ontraport. 
MailChimp
Mailchimp has been around for what seems like forever. It's grown way beyond its email marketing roots to now offering the ability to manage social, landing pages, ads and more.
They're really upped their game as far as tutorials, support and a whole slew of services, and they have a free option that can get a business up and running with email marketing quite easily. What's great about their platform is that their free plan also has some automations included, where for others that comes with advanced programs and higher pricing.
Their email templates are super easy to use and their free plan gives you several to choose from. As you move up in plans, you have access to more template options and features such as A/B testing, custom templates, advanced automation and workflow capabilities and more. 
Their plans go up in pricing based on the number of contacts you already have and plan to import into their platform, however, compared to some of the others out there, it's quite reasonably priced to do so. 
The Bottom Line: 
If you're looking for a relatively inexpensive plan with lots of features to grow into as needed, this is a great option to consider. 
HubSpot
HubSpot has also come a long way since it's beginning. When the platform began, it was a marketing software first and foremost. They revolutionized and named how consumers were now accessing content in the digital space and had the tools to help businesses create and reach their consumers. 
When their marketing software was launched, you could create email marketing campaigns, landing pages, set up automations and workflows and manage both your social media and your keyword strategy from the platform. 
They've now added in a CRM and a sales platform that works brilliantly with the marketing platform to create a beginning to end solution for companies who want to reach their audience at all stages of the buyer's journey and beyond.  
In terms of their email marketing capabilities, there are free versions that give you basic access to the platform's functionality, but all the good stuff comes in their paid packages, and they start around $800 a month for the professional package. 
The Bottom Line: 
Their free options are a great place to start, but if you're really looking for more robust solutions, you'll pay for it. But we'll tell you this, their customer support is also excellent, and we're huge fans of their free content. They're an incredible resource when it comes to marketing and we refer to them a lot. 
Ontraport
Ontraport is similar to Hubspot and MailChimp in that they have plans that give you an all in one experience for email marketing plus landing pages, automations, analytics and more. They have no free option, however, each of their plans, including their most basic option, comes with one on one onboarding and excellent support. And we know from our own experience, that support is key when it comes to utilizing your marketing platform efficiently and with as little stress as possible. 
Ontraport's email campaign builder is SUPER intuitive and maps it out in a visual way, which lends itself to better clarity and ease of use. Their chat team is quick to respond from whatever aspect of the tool you're using, which is the bomb.com when you're in the midst of something and have a question you need answered quickly. 
The Bottom Line: 
Their packages are reasonably priced with a robust set of features in each of them. Their customer support is on point, fast, helpful and quick to respond. 
We hope this gave you some insight into some popular tools for email marketing out there. We hope that whatever you're currently using that you feel supported, and if not, that maybe you've got some new options to check out. 
Superior Expo Services is a leading family owned trade show general services contractor with over 25 successful years in the business. We know what it takes to ensure that both trade show organizers and exhibitors are supported and set up for success. We pride ourselves on providing superior performance that rivals the big guys, yet never compromises our grassroots customer-centric approach to project management, personal service and attention to every detail. Contact us today to learn more