Do These 5 Things to Find the Right Speaker For Your Next Event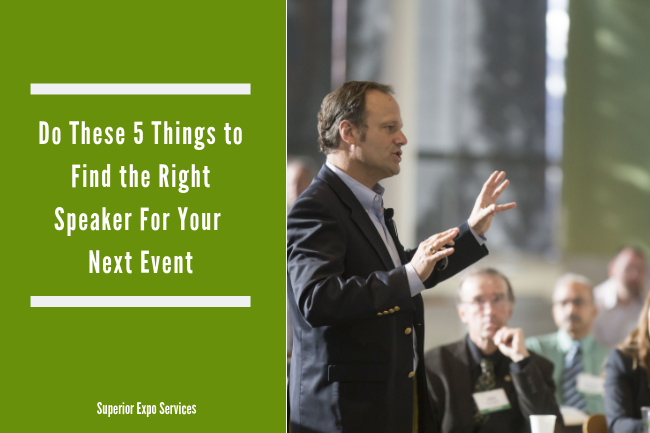 Finding the right speaker for your next event can take your conference or trade show from good to great. The right speaker can help drive attendance, spark inspiration and create memorable experiences for your audience, as well as creating a bigger buzz for your show. So how do you find the person that's going to help you make all those things happen?
Here are 5 things you can do to nail it in the speaker category.
Ask yourself these questions before the search
Not only is it important to understand what your goals and vision are for your trade show, but you must also understand what your audience's goals are as well. Knowing who your audience will help you best understand their goals, pain points, and what they consider valuable in the world of content.
What are your key goals and objectives for the conference, trade show or event?

What are your audience's key goals and objectives?

What topics, challenges or information would be most timely and valuable to your audience?

At what point during your conference, trade show or event would a speaker fit best?

What is it you want the speaker to accomplish? What do you want to leave them with? How do you want to leave them feeling?
When you take the time to answer the above questions, you'll start to have a better understanding of the kind of speaker you need, and who best fits that criteria.
Take time for consideration
Now that you've answered the above questions, really take the time to review and consider them. Put yourself in your audience's shoes and really think about what you want their experience to be after they sit through an hour with your speaker. How do you want them to feel? Do you want them to be inspired? Motivated? Empowered? Educated?
Remember, if your audience sits in a session with someone who isn't a fit, that experience will stick with them. Or, conversely, if they sit in a session with someone who nails it, they'll never forget it and could have a lasting positive impact. 
Get down to brass tacks
Now you can get down to brass tacks and start talking logistics and the finer details.
Consider such things as:
Budget

If you need someone who is educational, informational, inspirational or motivational

What is the time allotted for the speaker?
This information will help you further define and narrow down what your criteria are and help you find the person that fits.
Do it yourself or work with a speakers bureau?
This is an important one to consider. If you go it alone in the search for your speaker, it may take longer to sort through and find the people who meet your criteria. There are some online platforms such as the National Speakers Association's site where you can search by keyword or topic, etc. and you'll find contact information listed to reach out.
The other option is to use a speakers bureau and present your criteria to them, and have them help you find ideal candidates. Working with the right speakers bureau can help provide guidance and advice on selection, logistics and contracts so you can focus on the rest of the conference or event.
Find the speaker who leaves your audience with the experience you're looking for
Remember, the right speaker for your event, trade show or conference can truly elevate the experience for your attendees. Trust the work that you've done in preparation of your search and remember to find someone who will:
Bring an experience to your audience that they won't find elsewhere

Be real, share from their heart, their journey and present authentically

Listen to what's important to your audience and objectives and craft a talk that meets those

Connect with your audience after their talk and deepen the experience

Be flexible, reliable and who is in alignment with your overall mission and goals
You will find the right speaker for your event if you do these 5 things. Trust the work you've done, screen speakers with these things in mind, and know that your audience will be moved in the way you're hoping, creating memorable experiences for them, and a show that leaves a lasting impact. 
Superior Expo Services is a leading family owned trade show general services contractor with over 25 successful years in the business. We know what it takes to ensure that you, your show, and your exhibitors are supported and set up for success. We pride ourselves on providing superior performance that rivals the big guys, yet never compromises our grassroots customer-centric approach to project management, personal service and attention to every detail. Contact us today to learn more.