5 Email Marketing Ideas You Must Use Before the Trade Show to Increase Booth Visitors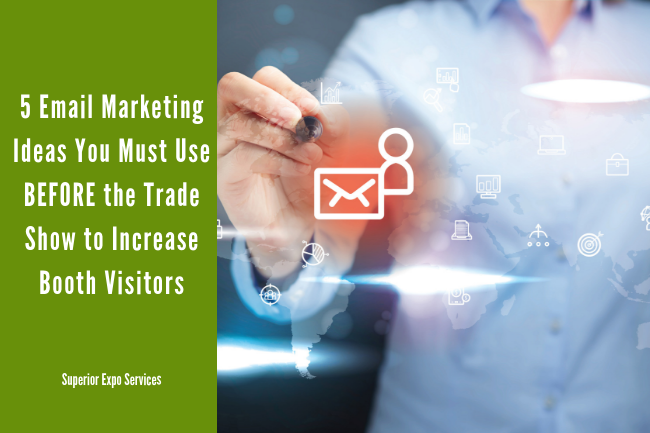 If you're spending the time and money it takes to attend a trade show, then you've got to do everything you can to get people excited about visiting your booth, or else you're just wasting that time and money. The work should start well before the trade show even happens. One of the best ways to do this is with email marketing. And not just any email marketing, but seriously engaging emails that generate buzz and excitement before the show. 
Here are 5 engaging email ideas you can send that will have attendees sure to visit your booth.
1. Reach out to your contacts from last year's show.
Hopefully, your team has a segmented list of people who attended last year's show and that you connected with or that visited your booth. Keep your email light and brief and let them know you'll be at this year's show.
Include the trade show name, your booth number, what you'll be featuring (any product demos, displays, etc).
If you can personalize this email based on previous conversations you've had with this contact, even better!
2. Let your current customers/vendors that you'll be going.
This may seem like a no brainer, but truly, letting your existing customers and vendors know you're attending a trade show helps them see what you're up to and that you're connected in the industry. It may also spark their interest in the show as well and let you know if they're attending, and if they are, there's nothing better than happy customers and partners visiting your booth and spreading their love of working with you!
Let them know where you'll be, when, include something that your company is excited to learn about at the show and then include the registration link for them to learn more or sign up for the event.
3. Introduce the trade show team.
This one is suuuuch a good idea. It personalizes things and helps your contacts see who will be at the show. Your customers and vendors will see who's going and it can help drive connection between your team and theirs. For those not yet doing business with you, it helps them better get to know your team and see what value they bring.
Here are some things to include:
Team member name

Title

Email
Bonus: Have an online appointment scheduling app like Acuity, etc to use to set up times to meet during the trade show! Having appointments set beforehand is a surefire way to up your engagement.
You can also include other things such as the team members company bio, links to their business social media profiles, photos and even an interesting fact or two about them. However far you want to go to personalize things is up to you!
4. Share some free and valuable content with them.
This one is magic! Anytime you can send valuable, educational content and information to your list, you are positioning yourself as an expert and as helpful, and they'll remember that!
If your business has a blog, point them to one that's written about the show you're attending, or to a piece of free content like an Ebook, or a PDF they can download that's relatable to the show. It will go a long way, and not only that, when a member of your list downloads free content like this, they're essentially "raising their hand" and telling you that they're interested, and giving you insight into where they're at in the buyer's journey. You can segment them further by these actions and market to them accordingly.
5. Give them a sneak peek of what's going to be happening in your booth.
Nothing like a little teaser of what to expect in your booth that builds excitement, but doesn't give it all away! Include anything such as any giveaways, contests, entertainment and also a friendly reminder for who will be in attendance at the booth.
With these 5 ideas in mind, an email list, some segmentation and a calendar of when to execute them, the more chances you have of driving traffic to your booth before you even get there. 
Superior Expo Services is a leading family owned trade show general services contractor with over 25 successful years in the business. We know what it takes to ensure that you, your show, and your exhibitors are supported and set up for success. We pride ourselves on providing superior performance that rivals the big guys, yet never compromises our grassroots customer-centric approach to project management, personal service and attention to every detail. Contact us today to learn more.