Your 2019 Trade Shows: A Year In Review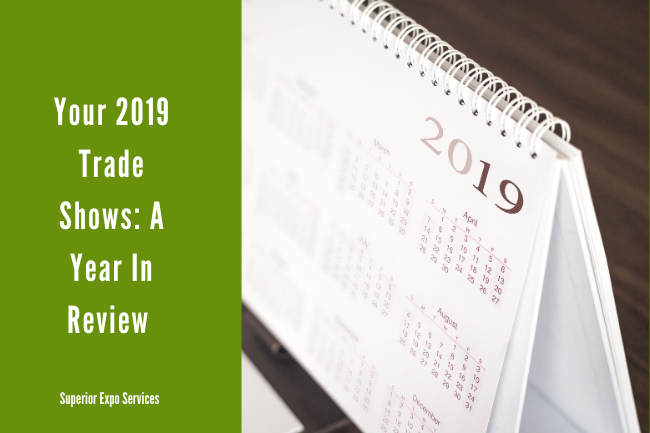 Well folks, we are almost to the end of the year. And if you really want to kick up the "gasp factor" we are almost to the end of this decade! Wow! So it's always a great time to start reflecting on this past year and looking forward to the next. Take a quick 2019 trade show review and look at what worked and what didn't, so that you can take that information powerfully into your strategy for next year. 
Did your company follow trade show trends? 
It can be a little dicey to find the balance of following the trends and staying true to your brand and customers. 
As Travis Stanton, editor of Exhibitor Magazine says, "Exhibitors who chase the cutting edge often find it carries a hefty premium, especially when it involves new and untested technologies. And cautious late adopters risk arriving a little tardy to the party."
The most important thing to keep in mind is the customer. If you adopted new trends, did you see an uptick in booth visitors, leads, conversions? Did you leave your customers remembering what you provide in value to them? Booth design should be about the customer, not just about you. 
Was your email marketing on point or a bust? Or somewhere in the middle? 
Most businesses fall somewhere in the middle. There's just so much room for email marketing strategy and implementation, therefore always room for growth and improvement. So what did your business or organization do well this past year that you will continue to do and build on? What flopped? What's an email marketing goal for 2020 that you can start planning for now? 
Need some inspiration? Check out our latest guide to email marketing before the trade show for some tips and tricks, template ideas, segmentation help and more. 
Did you meet your customers where they're at?
Better knowing who your customers are and where they're at in the buyer's journey is the key to creating meaningful content and experiences at a trade show. Did you really dive in to who your ideal customer is this year? And beyond that, did you then create experiences that met they were at in their decision making process? The end of the year is a great time to flesh out your ideal customers so you know exactly who you're talking to and what they want to hear.
What does 2020 in trade shows look like for you? 
How are you going to crush 2020? Where can you continue to build on your successes to create ROI for your business or organization? What gaps do you have to success and how can you bridge them? Just know that you don't have to go it alone. Hiring a general contractor to support your show if you're an organizer, or help with design creation, implementation and more if you're an exhibitor, can take immense pressure off of you and start your year off right. Let us know how we can help.

Superior Expo Services is a leading family owned trade show general services contractor with over 25 successful years in the business. We know what it takes to ensure that both trade show organizers and exhibitors are supported and set up for success. We pride ourselves on providing superior performance that rivals the big guys, yet never compromises our grassroots customer-centric approach to project management, personal service and attention to every detail. Contact us today to learn more.