Expert Event Carpet Installation Attracts Attention and Saves Money
Should you use the old roll of carpeting that has been getting dusty in the storeroom? Should you instead invest in a professional event carpet installation? Your event questions — answered!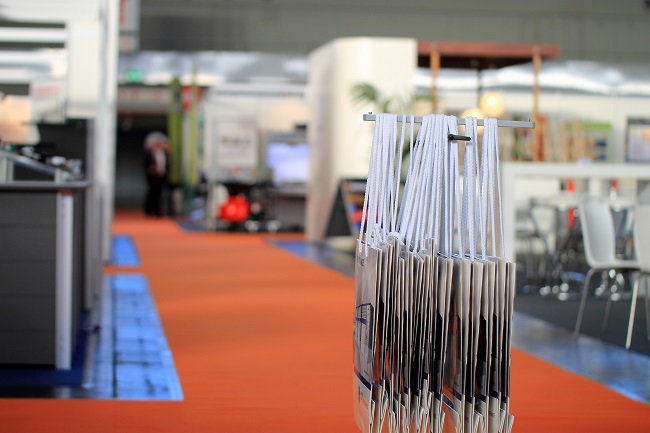 Customization is the Key to Effective Brand-Building
The roll of carpeting in the storeroom may have been a steal, but it is the wrong color. A professional event carpet installer ensures that you feature your booth, products, or event on a carpet that perfectly fits your corporate color palette.
Also, consider the consistency of the carpet. Does indoor/outdoor carpeting mimic the grass you need to properly highlight your gardening equipment? Would a chic black runner be a better option for your clothing displays? How about orange shag carpeting that focuses attention on your trade show booth devoted to all things retro?
New is Better than Used
Installing your own carpet, the one that you have reused constantly, can diminish your booth's excellent first impression. Unless you go through the expense of cleaning it before each event, mending it, and removing any stains, a used rug is actually a bad idea.
After all, envision your high-end merchandise displayed on a floor with stains, sun discoloration, dust, and damage. The last thing you want to deal with is a prospective customer whose shoe is caught on a carpet problem.
Expert Event Carpet Installation Levels the Playing Field
If you have been looking for a way to compete with national or multi-national companies in your field, do not compromise on the carpeting. Something as simple as custom-colored carpeting that underscores your brand colors with a professionally installed rubber reducer can make an excellent impression on your consumer demographic.
Similarly, custom logo rugs and mats augment the color selection of the event carpet you are selecting. They can be suitable for placement underneath tables and defining accentuated areas. These mats and rugs immediately catch the eye of passersby.
Discussing Your Options with the Experts
Superior Expo Services team members have the experience you need to handle all aspects of trade show and event preparation. Our specialists can walk you through event planning, booth design, décor selection, and staging options. Most crucially, we can help you turn a so-so floor into a stunning bit of eye candy. Contact us today!