10 Trade Show Booth Design Pitfalls to Avoid
Setting up a booth at a trade show is an incredibly valuable opportunity for your company or organization, but some people fail to take advantage of the limelight. Here are 10 common mistakes for you to avoid when you have a booth at a trade show.
Too Many Words
No one is going to read your graphics if they are too small to see clearly from a distance, and people are unlikely to stand still long enough to read entire paragraphs.
Keep the words on your graphics and signs short, specific and clear. Avoid cluttering your backdrop with additional pictures or designs. Your blank space will draw potential visitors' eyes to the words you most want them to see.
Placing Your Graphics Too Low
Trade shows are typically held in large convention halls or warehouses. If you want people to notice your booth from across the room, you need to place your logo as high as you possibly can.
Find out what the rules are for using vertical space, and then reach for the sky.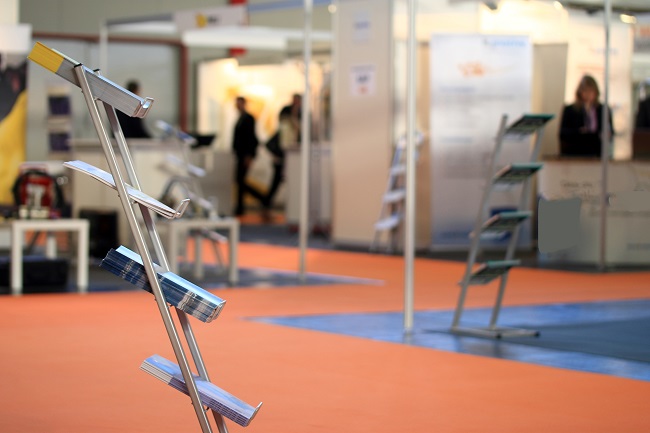 Lack of Flow
Avoid a booth where only a few people can see what you have to offer or where people tend to congregate in one spot. Great trade show booths have a clear pathway for people to walk through, effectively moving them right along through the presentation.
Another advantage to this kind of set-up is that it's easier for participants to walk all the way through than to step out of line and abandon your booth for another.
Low Light 
Light can bring attention to your booth as well as make it stand out from others. You are wise to use light to your advantage. Consider installing extra lights around your main display to draw eyes to your logo. Use colored lights to set yourself apart.
Forgetting Size
Know the size of your allotted space, and design your booth to fit. Use the whole area, but make sure that it's not too crowded.
Nothing to Do
You'll attract more visitors and keep them there longer when you provide an opportunity for interaction. Allow people to explore your company through a computer program or give a demonstration of products you offer.
No Hand-Outs
Everyone likes to get something for nothing. Put your logo on pens, hats, notepads or anything else that relates to your business. Sneak some pamphlets in with the freebies for a better advertising opportunity.
Lack of Consistency
Decide on one theme or color scheme for your display, and stick with it throughout. It should be obvious what is and isn't part of your booth.
Ignoring Social Media
You should be tweeting and posting before, during and after the trade show. Social media makes people feel connected, so it's important to use that to your advantage.
Tweet what's going on at your booth or when you have something special to display. It makes people feel like they're part of a group.
Bad Staffers
People working your booth should be friendly, attentive and pleasant. Make sure staffers aren't ignoring people or overwhelming them.
You can make the most of your trade show booth when you carefully consider every aspect of the display. Just be sure to avoid these 10 mistakes, and you will be on your way to attracting business and making a name for yourself.
Want to learn more? Contact Superior Expo Services.