What is New in Trade Show Exhibit Signage This Year?
Presenting your business with the right exhibit signage makes the difference between being noticed and being overlooked. Each year, companies work hard to push the envelope to attract attention. What is hot this year?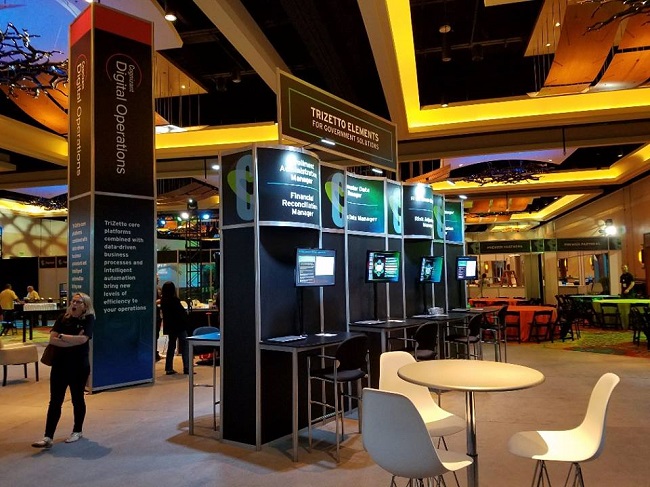 Three-Dimensional Displays are In
Your exhibit signage should feature some 3D appeal. With advances in print technology, graphic designers can now put together images that are so lifelike that you might catch some attendees trying to touch the displays. Choose geometric shapes or opt for pictures of your product or service. Heighten the three-dimensional appeal of your booth by adding light fixtures, banner stands, and furnishings as props.
Utilize the Space above the Booth
You already know about suspending exhibit signage from the ceiling. Now, it is time to up the ante with multiple displays at varying heights. While you need to keep the items well above the heads of attendees, it makes sense to play around with the height regulations just a little. In fact, some business clients have had excellent success with the display of provocative signage that draws in visitors only because of the open-ended messages they presented.
Textures are a Big Deal
Fabrics for banner stands and even backdrops are quickly becoming the norm. Go a step further with textured vinyl. This material is suitable for printing, which makes it ideal for the presentation as backdrop art. With textures that range from barely noticeable sand grit to highly visible waves, use this upgrade to draw the eyes of passersby.
Professional Expertise Never Goes out of Style
The only businesses that send a one-person crew for setup and takedown are typically the start-ups with little more than a pop-up display for a tabletop presentation. Everyone else relies on professional assistance. Working with experts who handle exhibit transportation, setup, takedown, and show services coordination is vital for companies that want to compete with industry leaders. Contact us today to find out how Superior Expo Services can help you do precisely that.