3 Ways to Show Trade Show Booth Visitors How You Solve Their Problems and Why it Matters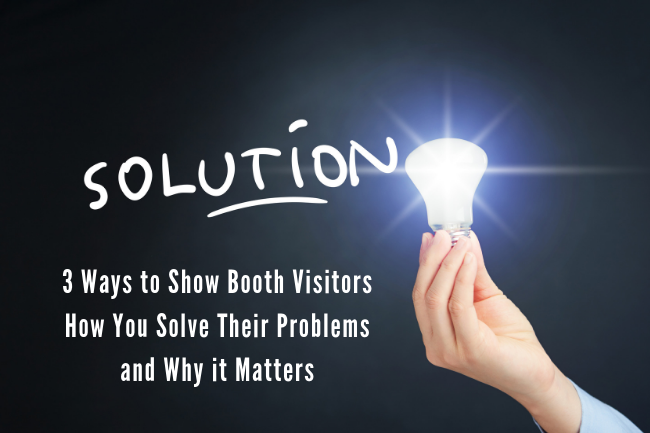 It's so important to show trade show booth visitors how you solve their problems. Doing so is part of meeting them where they're at in the buyer's journey. If you remember, the buyer's journey is made up of three stages; awareness, consideration and decision. Each stage has its own set of tactics and appropriate content to most effectively engage your visitor and provide them with valuable information to make their visit worthwhile. Let's talk about the consideration stage and how you can successfully set up your booth to meet visitors at this stage and the importance of doing so.
First, here's a quick example of a problem and what buyers are experiencing in each stage of the buyer's journey (care of our friends at HubSpot). 
Awareness stage example: 
My house never stays clean.
I never have time to vacuum my house.
Vacuums are loud and I have an infant at home.
Remember, in the awareness stage, the buyer is just kind of starting to experience and identify the symptoms of their problem or issue.
Consideration stage example:
I could hire a housekeeper.
I could buy one of those robotic vacuum cleaners.
I could hire someone to just vacuum my house.
In the consideration stage, buyers have solidly identified their problem and are starting to brainstorm and research different options for how to solve their problem.
Decision stage example:
They have chosen to go with a robotic vacuum cleaner and they are now researching and comparing the different brands such as Roomba, AutomatVac, and the Samsung Navibot.
What are booth visitors looking for that are in the consideration stage of their buyer's journey?
Going with our example from above, we can now assume that booth visitors who are in the consideration stage of buying can identify their problem or pain point and are researching their options for solutions. They are comparing and contrasting the most effective approaches and methods that can solve their problem.
What kinds of experiences and/or content can exhibitors offer to visitors to help them in the consideration stage?
Ahhhh, the opportunities are endless. Well, maybe not endless, but there are some golden opportunities to take advantage of. And if done well, you are helping to solidify your visitors interest and engagement (more on that later).
Here are 3 must-haves for consideration stage content and experiences in your booth. 
Live Talks and/or Demos:
Now, this isn't where exhibitors talk about themselves the whole time. Remember, your audience is looking for options to help solve their problem. Focusing on the problem that your product or service solves, and then how your product solves it, is key here. It is about them and the benefits to your particular solution.
Also, your booth staff should be trained on how to ask the proper questions to help identify where your visitors are at in the buyer's journey to help ensure that you can suggest the right options in-booth to provide value.
Videos
Videos are a powerful way to connect with your audience. Set up videos for visitors to self-serve and select content that speaks to them. Include product demos, customer testimonials, and anything else that showcases how your product solves their problem. You can even have them scan their badge in order to access the content, or provide an email address to view the video so you're capturing great intel on your visitor, helping you to provide value after the show too.
Downloadable Content
Today, content is king. And people resonate with different formats sometimes. Where having the interactive talks and videos in your booth may resonate for some, downloading guides, white papers that compare solutions, and other solution-based information may resonate for others, or be important to take back to further review after the show. Be sure that this information speaks to the problem and the solution.
Why does all of this consideration stage content matter so much?
This is where we get excited, because of how impactful this can be to exhibitors ROI. By tracking those visitors who are engaging with these kinds of experiences and content, you are now identifying them as in the consideration stage. This is a crucial thing to note in your lead data, so that you can continue to offer up content and support beyond the show that meets them where they're at.
When you know where your show leads are at in their buyer's journey, your sales staff can much more successfully provide valuable content and interactions after the show, therefore impacting the quality of the lead and leading to the greater possibility of a sale.
So, go forth and provide that awesome consideration content and experiences in your booth, and see what kind of magic you can create at your next show.
For more helpful tactics and ideas, download our free guide: How to Ensure Your Exhibitors Get the Most Out of Their Trade Show Experience
Superior Expo Services is a leading family owned trade show general services contractor with over 25 successful years in the business. We know what it takes to ensure that you, your show, and your exhibitors are supported and set up for success. We pride ourselves on providing superior performance that rivals the big guys, yet never compromises our grassroots customer-centric approach to project management, personal service and attention to every detail.